News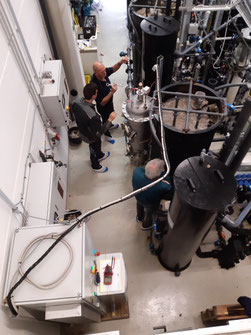 Oct. 2019 - News from the project:

The wastewater treatment plant is ready. Our multi-frequency systems are integrated in the air-conditioned control cabinet. The transducers were placed on the stainless steel reactor.
We participate in numerous national and international congresses and fairs and continuously expand our ultrasound systems including new fields of application.
Since 2018 Dr. rer. nat Martin Ecke our team, as a chemist he has many years of experience in sonochemistry.
________________________________________________________________________
A new joint project - funded by the BMBF - was start in September 2018 and
runs until 2021. We look forward to u.a. the fish farming our experiences and
Allowed to use multi-frequency technology. Our partners are AIMES GmbH and the renowned GEOMAR Kiel Institute as well as the ALFRED-WEGENER-Institut Bremerhaven.